CAG Federal is your source for Coronavirus Cleaners! See our flyer below; We have stock availability and can bulk ship to your location!
Call now for shipping rates and delivery options!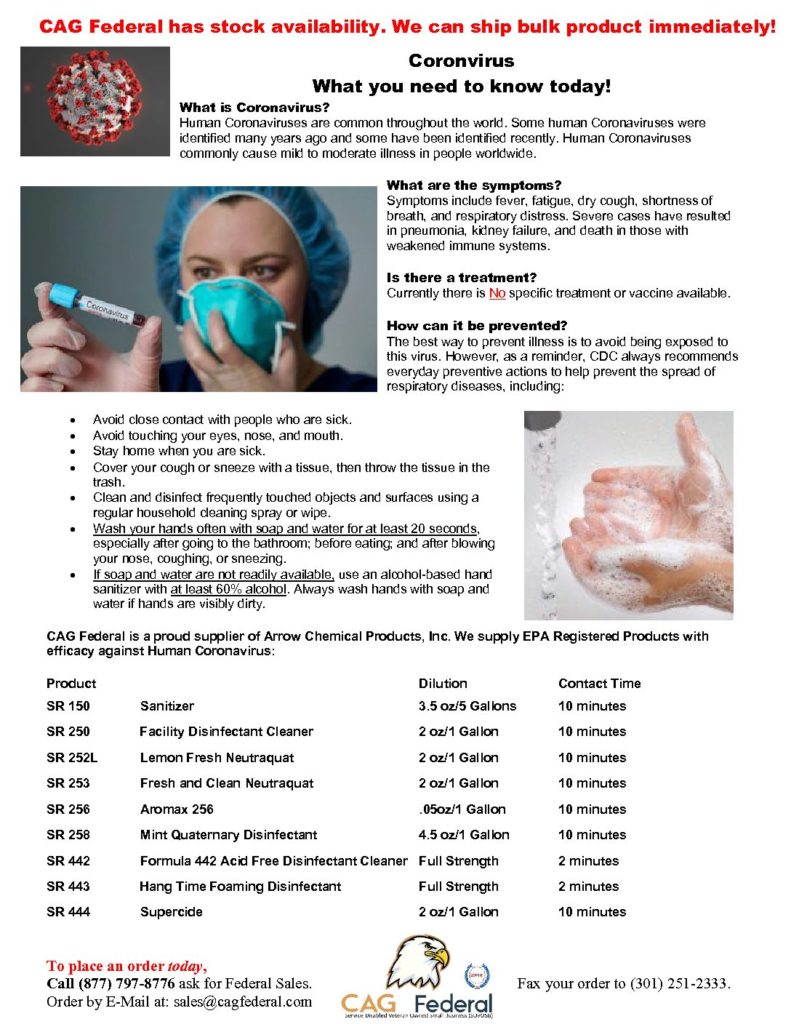 We also provide green, sustainable cleaning solutions for your institutional needs.

CAG Federal is a Service Disabled Veteran Owned Small Business (SDVOSB) and serves Local, State, and Federal Government customers as well as local small business. All are welcome to purchase from us at our low, governmental prices.
CAG Federal provides floor care, housekeeping, safety and janitorial products that promote ease of use while improving employee environmental conditions. We distribute aqueous and semi-aqueous cleaners that provide environmentally preferable alternatives to traditional products. Our series of products is based on safe, naturally derived citrus solvents. All products are designed to offer our customers superior quality and results, while reducing efforts as well as lower your labor costs.
Our 2019 product catalog – Our price sheets do not cover shipping
Federal Chemical Price List / Product Listing as of: 03/20/20
Product Brochure – Our price sheets do not cover shipping
Cleaning Supplies Brochure – June 2019
Online Ordering – Coming Soon!
To place an order today, call (877) 797-8776 and ask for Federal Sales. You can also Fax your order to (301) 251-2333.
Downloadable Microsoft Excel Order Form
We can also accept your order by E-Mail at: sales@cagfederal.com